Tribute to Mike Strantz (1955-2005)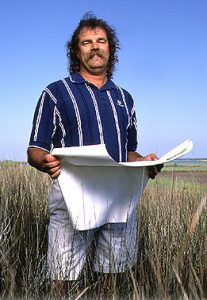 Originally from Toledo, Ohio, Mike graduated from Michigan State in 1978, and began his career by working at the Inverness Club, which was preparing to host the 1979 U.S. Open. Noted golf course architect Tom Fazio was then under contract with the USGA to modify courses before the Open, and Mike met Fazio in the months prior to the tournament. "Tom did some extensive work on the course for the Open, and he saw that I had a knack for the work," said Strantz. "I just kind of fell in with him. He hired me, and the day after the Open I was on a plane to Hilton Head." In Hilton Head, Mike's career with Tom Fazio began at Moss Creek Plantation. He later served as an on-site designer and shaper for Fazio's Links and Harbor courses at Wild Dunes near Charleston, and served that same function at eleven additional Fazio courses–including Lake Nona, Wade Hampton Club, Kiawah Island's Osprey Point and Florida's Black Diamond Ranch–over the next eight years.
"Golf course design is one of the few trades today where apprenticeship is the only way to get good experience," he said. "A good designer needs to have excellent knowledge soil structures, engineering and vegetation knowledge, as well as a feel for the average golfer. I was fortunate to work with and learn from one of the best in the business."
In 1987, Mike left Fazio's company to serve as on-site supervisor for the reconstruction of Wild Dunes–a job made more extensive by 1989's Hurricane Hugo–and for the construction of Dunes West in nearby Mt. Pleasant, where Mike and his family moved in 1987. "Working with a premiere designer like Tom, you get moved around quite a bit," said Strantz. "I wanted to be able to dedicate myself to some key projects, and working with Tom had given me the experience to do so successfully."
Following the completion of Dunes West, Mike was hired by Myrtle Beach's Legends Group as Director of Golf Design for their Parkland course, which opened to much fanfare in 1993. Following that project, demand for Mike's services allowed him to form his own course design company, where he could approach each project with his unique ability and philosophy.
A natural artist, Strantz would sketch detailed hole renderings on his first visit to an undeveloped sight. "I take a lot of time walking around a piece of property, and I try to let the character of the property dictate the design," he said. "You have to let the land speak to you to get the most out of it."
Mike's other unique approach was to spend considerable amounts of time on the property. He worked only one project at a time, and dedicated his entire energy to the project at hand–a philosophy that allowed him to create innovative, exciting and breath-taking golf courses. "There are not a lot of architects who will spend the amount of time on a job that I will," he said in 2004. "It's just the way I like to work."
Design Achievements
1998 Architect of the Year – Golf World
1999 Number One Golf Architect Highest in Demand – Golf World
2000 Top 10 Greatest Golf Architects of All Time – Golfweek
All courses have been listed in Top 100 Best Modern Courses in America – Golf Digest
1994-2001 Continuous Top 30 Ranking Best 100 Courses – Golfweek
1997-2001 America's 40 Best Public Courses – Golfweek